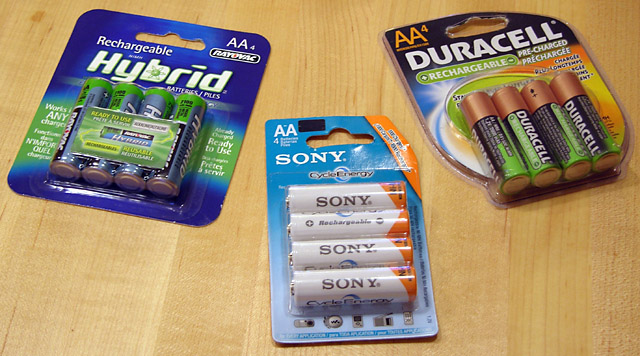 From Sanyo Eneloop all the down to cheap, generic brands, there is a wide range of premium rechargeable batteries to choose from? But do you really gain better performance from the premium brands?
A couple years ago, when Apple released its own brand of rechargeable batteries, there was a great deal of excitement in the tech media. Apple, after all, spends millions of dollars a year in rechargeable battery research, with most of its R&D resources going into improving the LiON battery packs that power its popular mobile products, such as the MacBook, iPhone, iPad, and iPod. It didn't take long, to reveal that Apple's AA NiMH rechargeable batteries for its wireless keyboards are actually made by Sanyo Eneloop and rebranded.
Some were disappointed, but for avid rechargeable battery enthusiasts, it was an endorsement for Sanyo Eneloop: if Apple was willing to stick its own brand on Sanyo Eneloop-designed batteries, they must be high quality, right?
That being said, there is a often a wide gap between the price tags of Sanyo Eneloop, Energizer, and other premium brandeded rechargeable batteries and more generic brands. In the end, however, is there much difference between the two?
It's a complex question to answer because, even among the premium brands of rechargeable batteries, some actually perform poorly against generic brands. A great resource for comparing brands is this NiMH rechargeable battery shootout, put together by a tester at CandlePowerForums.com. The study tested over a dozen different brands, from the immediately recognized Sanyo Eneloop, Duracell, and Energizer, as well as lesser-known brands, such as Vapex. The test measures AA rechargeable batteries in a comparison at a 1.0 amp discharge rate, all charged for the same amount of time on the same battery charger.
The top contender — Sanyo Eneloop — is not a surprise. But perhaps more surprising was that Duracell's 2650 came in second, and yet Energizer's 2500 came in a distant tenth place, with other, lesser-known brands ahead of the battery giant.
And herein lies the problem: performance is not the only factor when measuring batteries. Another big issue is quality. While Sanyo Eneloop is known for high quality, Duracell and Energizer is not. Energizer in particular is known for a good percentage of its batteries dying after only a few recharges.
Other generic brands, like Vapex, usually perform in the middle of the pack, but their price-to-quality value is quite high. Other brands, like Ansmann, are not a "generic" brand, but can save you some money against the likes of Sanyo Eneloop — especially if you have to invest in a large quantity of AA rechargeable batteries for your work or hobby.
A good rule of thumb is to avoid the battery brands like Duracell and Energizer for rechargeable models, as these companies are simply looking to neutralize the rechargeable battery market in order to bolster disposable batteries, which have a much higher profit margin for them. Instead, invest in brands like Sanyo Eneloop, Vapex, and Ansmann, as well as Powerex. These are brands manufactured by companies who are deeply invested in the market segment. They all offer different performance ratings — you can research and choose the ones that will fit your project or need — but at least you can be assured that the quality and longevity will stand the test of time.
Thanks for reading our article! Did you know that Electronics Warehouse carries Sanyo Eneloop, Vapex, and Ansmann AA rechargeable batteries? Take a look at what we have to offer! .